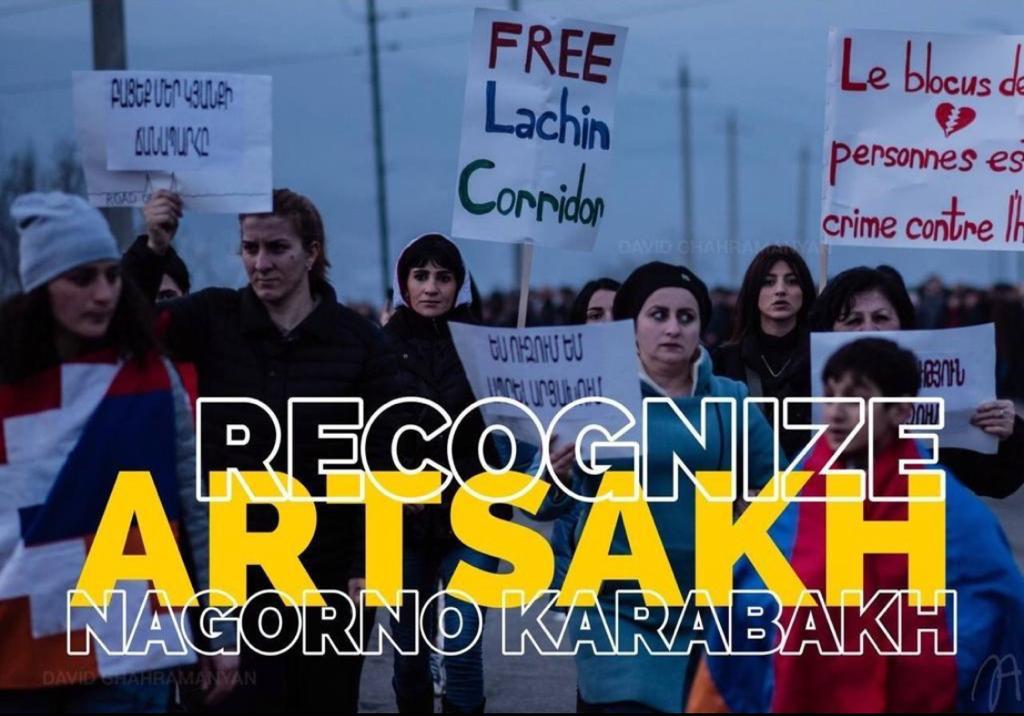 After having suffered a total blockade imposed for 9 months by Azerbaijan and leading the Armenian population to famine, Azerbaijan annexes the territory of Artsakh. It is a real ethnic cleansing that has been initiated in Artsakh by Azerbaijan, seeking to completely annihilate the Armenian people.
Today Artsakh, tomorrow Syunik and Yerevan. The Azerbaijan/Turkey tandem initiates the final phase of the Armenian genocide.
ARTSAKH IN DANGER
The Europeans for Artsakh Movement is a support movement composed of 500 organizations from 17 countries, including more than 200 from France, who have united to jointly denounce the current conditions in which Artsakh is condemned. The movement aims to alert European political institutions and European states about the situation in Artsakh, defend its right to self-determination, and demand the lifting of the blockade imposed by Azerbaijan since December 12, 2022. It calls on the European Union to remain faithful to its founding values of promoting peace and the well-being of peoples, human dignity, freedom of movement, and the fight against discrimination.
The Europeans for Artsakh Movement:
– Strongly condemns Azerbaijan's policy of ethnic cleansing in Artsakh.

– Condemns Azerbaijan and Russian peacekeepers for failing to fulfill their obligations under the Trilateral Declaration of November 2020, including ensuring the security of the indigenous Armenian population of Artsakh.
– We urge the EU to effectively pressure Azerbaijan to stop violating the Trilateral Declaration of November 9, 2020 and ensure safe and unhindered movement of all Artsakh Armenians as well as goods and merchandise through the Lachin corridor.

– Demands that the EU impose targeted sanctions against the political-military leadership of Azerbaijan for their policy of ethnic cleansing against the indigenous Armenian population of Artsakh and for the forced expulsion of the latter.

– Denounces the EU's continued political support for the so-called "integration" of Artsakh with Azerbaijan, despite the obvious prospect that this means the exodus of Artsakh's native Armenian population from its homeland of more than 3000 years or its subjection to a dictatorship. in very dangerous conditions.

– Demands immediate accountability against all officials who supported Azerbaijan's policy of "integration" of Artsakh into Azerbaijan, as this aided and abetted Azerbaijan's genocidal policy against the indigenous Armenian population of Artsakh.

– Demands that the Azerbaijani military immediately end the occupation and siege of all Armenian cities, towns and villages in Artsakh, withdraw its military presence in Artsakh and fulfill its obligations under the Trilateral Declaration of November 2020 .

– Demands that Azerbaijan immediately and unconditionally release all Armenian captives and prisoners of war and that Azerbaijan be held accountable for the war crimes and human rights violations it committed during and after the 2020 war.

– Calls for recognition of the right to self-determination of the Armenian population originating from Artsakh, as an existential question in the face of Azerbaijan's current policy of ethnic cleansing and as something that amounts to nothing less than their right to the life.

*15 European countries and 2 outside the EU: France, Germany, Austria, Belgium, Bulgaria, Cyprus, Spain, Greece, Hungary, Italy, Netherlands, Poland, Portugal, Romania, Sweden, and 2 outside the EU: Switzerland, United Kingdom.
October 1st, 2023
At 2 p.m. at Schuman Roundabout in Brussels
For the recognition of the Republic of Artsakh​
Are you looking for transportation to get there?
For reasons of feasibility, the buses will currently depart from the Île-de-France region.
COMPLET !!

Il n'est malheureusement pas possible de réserver, du fait que tous nos bus sont complets.

Nous ne disposons plus de car supplémentaires pour vous transporter jusqu'à Bruxelles et nous en sommes désolés.

Nous vous encourageons vivement à vous organiser par vos propres moyens :

– en covoiturage avec votre famille ou vos amis.

– par le Thalys au départ de la Gare du Nord à Paris. Plusieurs trains sont disponibles à l'aller et au retour pour une durée de 1 h 30 le trajet. Voici le lien pour réserver https://www.thalys.com/fr/fr

– par la compagnie Flixbus, au départ de Paris Bercy. Il y en a très régulièrement et la durée du trajet est de 4 h environ. Le lien pour réserver est ici https://www.flixbus.fr/

La manifestation démarrant à 14 h vous avez largement le temps, dans la matinée de rejoindre le grand rassemblement par l'un de ces moyens de transport.

Ne tardez pas. Et pensez au retour. La manifestation doit se terminer aux alentours de 17 h 30.
Copyright Europeans for Artsakh